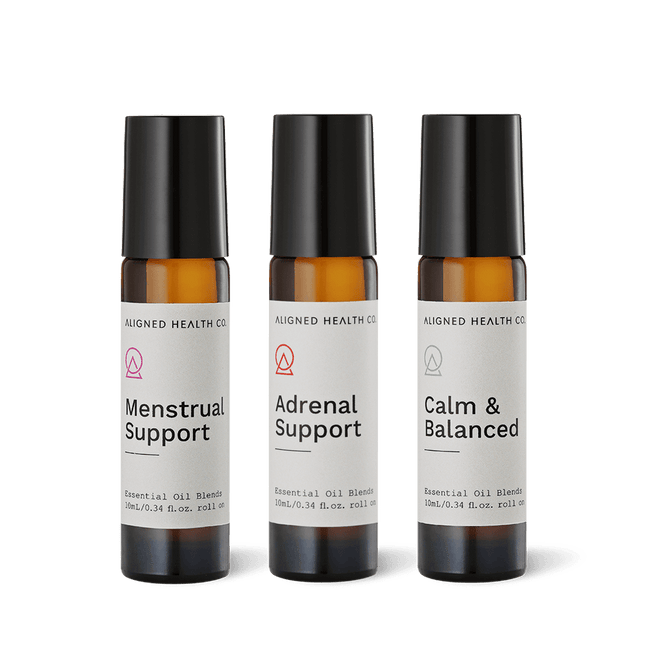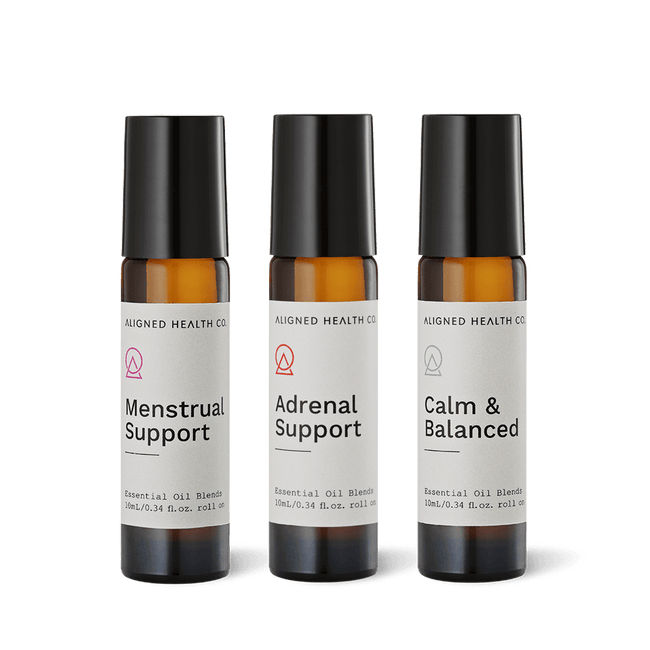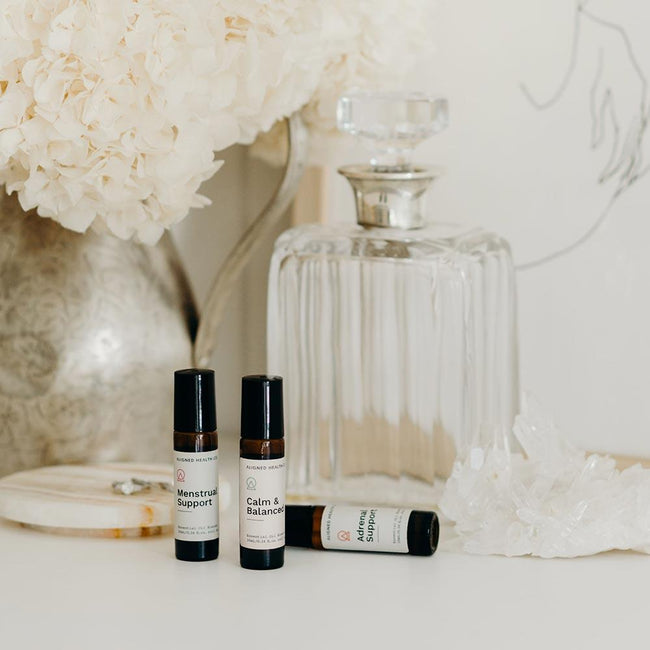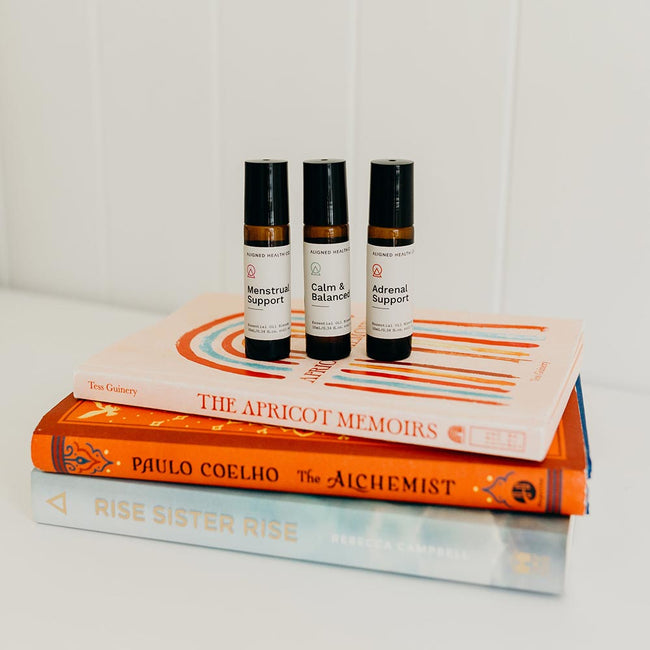 These life-enhancing blends are a must have for every woman and can help you embody a new sense of wellbeing. Our Women's Wellness collection encourages you to feel calm, centred and at peace within your body, mind and spirit during times of stress, anxiety, overwhelm, fatigue and menstruation.
Includes:
Menstrual Support: A relieving blend to temporarily calm and relax spasms, cramps and pain associated with your monthly cycle. This blend supports hormonal imbalances such as PMS and endometriosis. It releases emotional tension within the reproductive organs and the expectations of suffering related to your cycle. This blend encourages you to honour your body's natural rhythm of life. In doing so, this can help you reclaim your connection to your sacred, creative and feminine power that lies within.
Adrenal Support: A restorative blend that helps to restore physical energy, brain function and a positive mood during periods of stress and mental, adrenal or chronic fatigue. On an emotional level, this blend reminds you of the innate goodness of others and invites you to combine your individual strength with the supportive power of others. It also reminds you to trust in a higher power and to connect with the Divine in order to cultivate lasting peace.
Calm & Balanced: A grounding blend that brings you back down to earth – physically, mentally and emotionally. Helps to temporarily relieve symptoms such as nervousness, anxiety, stress, fear, irritability, emotional instability and overwhelm. This blend encourages you to feel calm, centred and at peace within your body, mind and spirit - inspiring a balanced and positive mood and making you receptive to a sense of joy and fun. Aids in times of transition and new experiences and can enhance meditation and yoga practices. The adult blend offers courage and resilience, inviting you to release anything that holds you back from reaching your fullest potential. Reminds you that there is truly nothing to fear and to trust in the flow of life.
Menstrual Support: Apply to areas of pain and discomfort (over uterus, ovaries and lower back), inside of wrists and front of neck. Do not use if pregnant.
Adrenal Support: Apply to inside of wrists, neck and over kidneys (both sides of the spine, just below rib cage) as needed. Avoid use at night and if pregnant. If you are pregnant and interested in this blend please contact us and we can alter it to your needs.
Calm & Balanced: Apply to chest, inside of wrists, back of neck and bottom of feet as needed.
Menstrual Support: Clary Sage, Cedarwood, Geranium, Frankincense, Sandalwood, Roman Chamomile, Magnolia, Neroli, Yarrow Pom, Rose.
Adrenal Support: Frankincense, Wild Orange, Rosemary, Cedarwood, Geranium, Vetiver, Ylang Ylang, Clary Sage, Marjoram, Spearmint.
Calm & Balanced: Wild Orange, Cedarwood, Juniper Berry, Melissa, Melaleuca, Arborvitae, Spruce, Ho Wood, Frankincense, Blue Tansy, Blue Chamomile, Osmanthus.
Shipping
FREE Shipping within Australia for orders over $50 AUD
For Australian orders less than $50 AUD
Standard AUS shipping: $6.95 AUD (5-7 Business Days)
Express AUS shipping: $11.95 AUD (1-3 Business Days)
Worldwide International Shipping:
FREE for orders over $95 AUD
$19.95 AUD for orders less than $95 AUD
Please allow 1-3 days for processing before your item ships, you will receive an email with a tracking number once your item/s has been shipped.
International orders are sent via courier, tracking included in cost. International shipping is not inclusive of duties and taxes. Duties and taxes may be due upon receipt and based on local tax rates. Please note the buyer is responsible for any additional fees. International orders can take up to 3 weeks to arrive after they have shipped since all orders pass through customs.
Authority to leave
Default order shipping includes 'Authority To Leave' instructions, whereby the shipping company utilised for delivery is not required to collect signature on delivery and may leave your parcel unattended on your property unless stated differently by customer. This must be noted in the comment section at checkout. If we've received confirmation from the courier service of your package being delivered safely at your residence we are not responsible for lost/damaged deliveries.
Returns
Items are carefully inspected and packaged before they are shipped. Damage occurring during shipping is highly unlikely however if this occurs please contact us and we will investigate the fault or damage immediately. Please keep in mind that the products you are buying are handmade and 100% natural so there can be slight variations from batch to batch. If you have any issues with your order, please contact us within 48 hours of receiving and we will do our best to rectify any of your concerns. Keep all of the original packing material and we'll provide you with instructions. Please note we do not refund the shipping costs.